America...
you know the rest!
I celebrated America's independence by rocking out to the irreverent left-wing comedy of Lewis Black, and the soothing, melodic ass-kicking of Mr. Ben Folds.
"And tell that French DJ Tricky to move out!" - Space Ghost
Well, after I recovered from Sunday night's misadventures, I met up with Kelsey and Brian, and we drove down to Summerfest. Interestingly enough, there was no traffic to speak of, which was nice. We went to JoJo's Martini Lounge first, for Lewis Black. Here's a pic:
We were pretty close, eh? He did a great set, equal parts awesome and offensive to the right wing, which is just how I like it. Where else do you get a fully-developed theory about electing Ronald Reagan president in 2008? Nowhere, that's where.
After that, we kinda sauntered over towards the Miller Oasis to stake out whatever seats were available for Ben's show. I wasn't really concerned about seating, cuz if I was, I would have come much earlier in the day and not moved.
So we got a picnic table, and just kinda hung out for a while. Everybody always stands up on the bleachers, picnic tables, etc., that I'm surprised there aren't more injuries each year. Here's the view we enjoyed while waiting.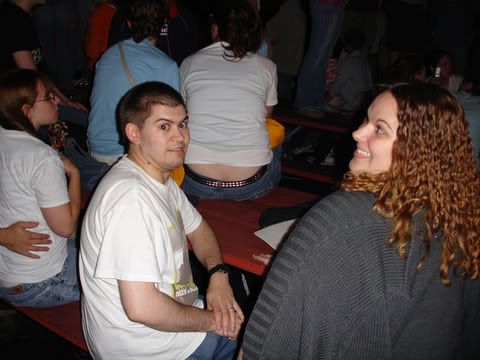 Yeah, that's right. I guess I'll have to write to Miss Manners, and ask what the proper approach is for this situation. Probably not taking a picture, for starters, but that's why I'm not Miss Manners.
Ben put on a great show, as usual, and played a lot of new stuff, and a lot of songs I haven't heard him do live, or with a full band. So good times. And Brian, in his infinite wisdom, suggested we stick around by the stage exit. At which point I got this picture:
Again, badass. We just said hi, and thanks for the show and all that. I'm always a little wary of "bothering" famous people, even though I know Ben wasn't really bothered by signing a few autographs and whatnot. So I just kinda hung back, but it was nice to be able to say thanks for a great show.
More later. I'm tired now. Sooooo sleeeeepy.